Drum Gator II(TM) Preview
Drum Gator II is the next generation noise gate and envele shaper designed specifically for drums and percussion. It is available as a free upgrade for users who purchased Drum Gator before July 1, 2022. Drum Gator II is currenly available for Windows platforms in VST3 and AAX formats, 64-bit only. MacOS formats are in the works and will be released as soon as they are available.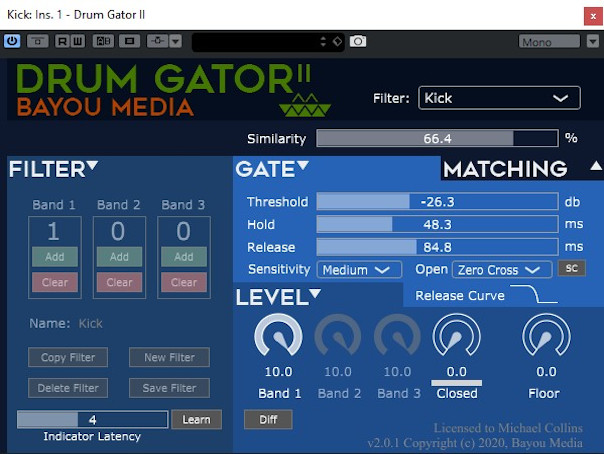 Drum Gator II is now available for purchase for $75.


Improvements over Previous Versions
Drum Gator(TM) is the original transient-based drum gate. Drum Gator II has the following improvements over the original Drum Gator.
Improved Transient Detection
The improved transient detection algorithm can now be adjusted in the following ways...
A user-selectable "zero crossing" mode provides instantaneous, sample accurate gate opening. When enabled, this mode completely eliminates gate opening artifacts.
Three user-selectable "Sensitivity" settings for provide control over gate reaction time. This allows the user to fine tune drum gator to the spectral content of the program material, reducing content-specific artifacts like false triggering and missed transients.
Improved Spectrum Matching
The spectrum matching algorithm has been re-written to provide more reliable matching of spectral content. In addition, spectral filters can now be created from a single signature and no longer require two or more spectral signatures as did previous versions of Drum Gator. When matching to a single signature, a "similarity" threshold is used to control the rejection of unwanted signals.
Other Changes and Improvements
Four selectable release curves provide a additional options for tailoring the ADSR envelope.
"Hold" and "Release" times have been increased from 300ms to 500ms, providing increased level of control over the ADSR envelope.
A side chain capability allows triggering from external sources.
Reduced memory footprint compared to previous versions.
All internal calculations now use double precision math, reducing or eliminating unwanted artifacts.
The "Decay" slider has been removed.
The "Attack" slider has been renamed to "Threshold".
---
Try Drum Gator II for free
You may download Drum Gator II for evaluation purposes. Drum Gator II will operate in Trial Mode until you purchase and install a license. Drum Gator II will operate normally in Trial Mode, but will output 5 seconds of silence every 30 seconds.
If you are running Drum Gator II in trial mode and you decide to purchase it, simply download the license file and activate it. There is no need to re-install Drum Gator II.
Note: If you purchased Drum Gator before August 1, 2022, you can upgrade to Drum Gator II for free. Just re-dowload your license file and it will automatically upgrade to the new version (You will need to download and install DrumGator II). If you are having trouble locating your license file, please leave a message on the contact page and I will send you a link.